New Patients
Chiropractic Care For Results
Many times, the patients that receive the best results from chiropractic care are those whom:
Those with a case of the cant's. What we mean is, maybe they can't play toss in the backyard with their child due to pain. Or they may not be able to golf, jog, bike or swim. For some, even daily activities are too difficult anymore. That's where we come in!
Persons whom follow the prescribed plan of care for their particular condition respond well to chiropractic care.
Please use the pain scale below to measure your pain intensity: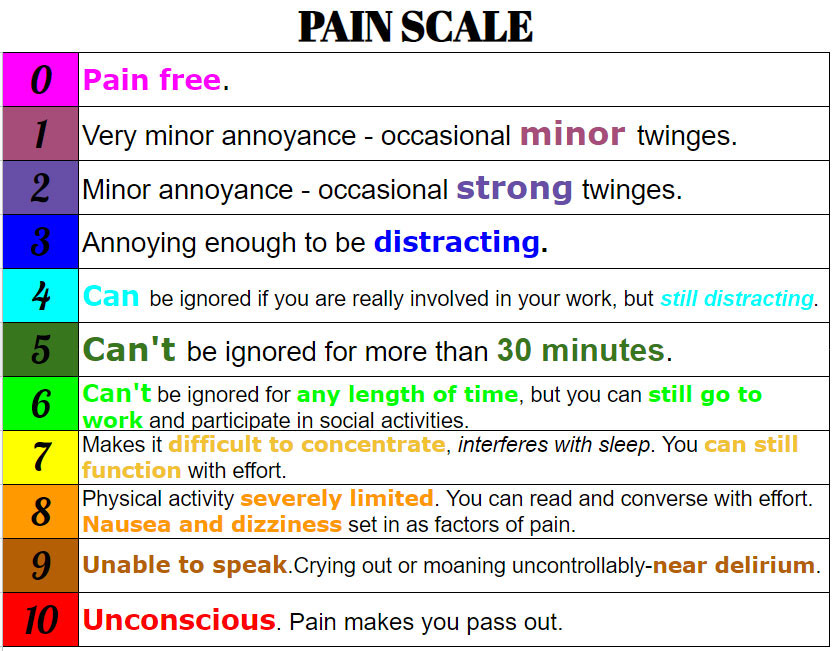 Your First Visit
New patients should expect an hour to an hour and a half on their first chiropractic visit. This allows for history taking, exam, X-rays and treatment.
We ask all Muncie Spine and Rehab patients to sign in upon arrival and to indicate if this visit is for a new or existing condition.
You will need to bring all insurance information, your preferred method of payment, and a photo ID. We will also take a photo of you to be downloaded into your file. Please bring your current X-rays and/or MRI's, have your intake paperwork already filled to decrease the amount of time needed on this visit.
Please be prepared to answer questions regarding your current complaints and your past medical history as well as some general health questions regarding blood relatives. We require a list of all medications you take including prescription, over-the-counter, and supplements. If you were involved in an auto or work-related accident, this needs to be stated at the time you call for your first appointment. Additional documentation needs to be obtained for this type of care.
You may need to change into a gown for the exam and X-rays. Otherwise, disrobing is usually not necessary. During this time we will call your insurance carrier to obtain your Chiropractic benefits.
You Chiropractic Care Plan
Once one of our doctors has examined you and studies your X-rays he will discuss with you his prescribed treatment plan. Depending upon several factors, treatment may or may not be done on the first visit. You will be given a New Patient Packet which contains descriptions of various treatments, instructions on what to do (and not do) at home, and often some product samples.
You will be directed back to the front desk in the reception area to check out. We accept cash, checks, and all major credit/debit cards. Future appointments can be made at this time. We make every effort to offer convenient office hours so that you can be compliant with your individual treatment plan.
Your Second Visit
On a typical second visit, after signing in at the front desk, you will be taken to a treatment room where one of our doctors will display your X-rays and give you a verbal report of his findings. He will answer your questions about chiropractic care and explain his recommendations. Under various circumstances, this may have been done on your first visit.
You will now be directed to whichever area will provide your prescribed treatment. This could include physiotherapies as well as an adjustment by Dr. Moore. When completed, you will be directed to the front desk to check out.
In certain situations, and in the professional judgment of the doctor, we sometimes make exceptions. It just depends on your unique situation.
Then it will be time to schedule your next appointment!
Regular Visits at Muncie Spine and Rehab
All subsequent chiropractic visits will begin by signing in at the front desk. You will then be directed to the therapy suite, if this is part of your treatment plan, or to a treatment room for an adjustment. Once finished, you will check out at the front desk, confirming upcoming appointments.
Please allow 15-30 minutes for these visits, depending on the number of services you are receiving.
Later in your chiropractic care plan, our doctors may order rehabilitative exercises. If these are done in our office, you will want to allow extra time.
Insurances Accepted
Muncie Spine and Rehab is currently enrolled with the following insurances:
Medicare
Medicaid
Anthem/BCBS
IU Health
United Health Care
Aetna
Cigna
Get To Know Us
The more you understand who we are, what we do and why we do it, the better results you'll enjoy. It's as simple as that.
So, check Muncie Spine and Rehab out here. Poke around. Get to know us. Then, contact us to make an appointment so we can get to know you.
CONTACT US »
---
New Patients | (765) 288-4769